Chandler Buffay is the youngest daughter and last child of Frank Buffay Jr. and Alice Knight Buffay, named after Chandler Bing when she was thought to be a boy and her parents allowed Phoebe the chance to name one of the triplets.
Chandler was born with her older brother and sister, Frank Jr. Jr. and Leslie Buffay. They had trouble conceiving naturally, so Frank asked Phoebe Buffay, his sister, to be the surrogate for their child. They were born in "The One Hundredth", which revealed that it was two girls and a boy rather than the two boys and a girl it had been assumed to be initially. Despite this, her name of 'Chandler' was retained despite Chandler's comment that it was a bit of a 'masculine name' because, as Phoebe saw it, it seemed to work for him.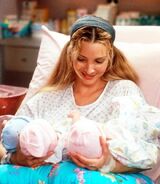 In
Season 6
, Phoebe is asked to babysit the one-year-old triplets; and again in
Season 10
, when they are five years old, when Frank asks Phoebe if she wants to adopt one of them (like in "The One Hundredth", when Phoebe wanted Rachel to ask Frank if she can keep one of them.), but he loves them all too much to give one of them up.
As Frank Jr and Phoebe Buffay are half-siblings, Phoebe Abbott is not Chandler's grandmother. Frank Jr and Phoebe Buffay share a father, but neither Phoebe Abbott nor Lily Buffay is Frank's mother.