We're Getting Mutants in the MCU - The Loop
Play Sound

Joey is an American sitcom, which starred Matt LeBlanc reprising his role as Joey Tribbiani from the sitcom Friends. It premiered on the NBC returned on March 7, 2006, in a new timeslot of Tuesdays at 8:30 p.m. One episode, "Joey and the Snowball Fight", was shown on a Tuesday at 8:30 p.m, but was pulled by NBC when it was overshadowed in ratings by American Idol. NBC cancelled the series in May 2006 and did not broadcast the remaining episodes.
Repeats are currently broadcast in India on WB TV, in Norway on TV2, in Sweden on Kanal 5, in Denmark on TV 2 Zulu, in Portugal and Bulgaria on Fox Life, in the Netherlands on Veronica and in Japan on Super! drama TV.
Main characters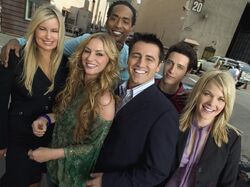 Two cast members had previously appeared as different characters in Friends; Coolidge appeared as Amanda, an old friend of Monica and Phoebe, in a tenth season episode. Adam Goldberg appeared in Friends second season in the recurring role of Eddie, who moves in with Chandler after Joey moves out. Additionally, Robert Costanzo reprised his role as Joey's father in "Joey and the Dad", a character originated in the first season of Friends. Costanzo was the only actor besides LeBlanc to play the same character in this series as in Friends (Gina appeared in a third season episode of Friends, but was not played by Drea de Matteo).
Development
The pilot episode was released in screener for test audiences and members of the entertainment industry to preview the show and drum up business. The screener was subsequently leaked on the Internet and thus has received a much wider critical review process than initially conceived. There were few differences between the unbroadcast pilot and the version that was broadcast. Ashley Scott played the role of Allison in the unbroadcast pilot, she was replaced by Andrea Anders and the character name changed to Alex.
The series did well in the Nielsen Ratings in its first season (2004-2005) and was subsequently renewed for a second season (2005-2006). In the second season, Miguel A. Núñez Jr. was also added to the show as a series regular. Also, Jennifer Coolidge had a more prominent role.
The show was pulled from its Thursday-night timeslot in December 2005, and NBC returned the show in a new timeslot (Tuesdays at 8pm) on March 7, 2006. Despite being in competition with American Idol, the ratings were even higher; Joey was the highest rated prime time program of the week for NBC. The network pulled the series after the first Tuesday broadcast and its cancellation was announced on May 15, 2006. The remaining episodes have never been broadcast by NBC, but have been shown on various other networks around the world.
The fifth and the thirteenth episodes were directed by David Schwimmer, who played Ross Geller on Friends.
Episodes
Reception
Awards
Joey won the People's Choice Award of Favorite New Television Comedy and Matt LeBlanc won Favorite Male Television Star. LeBlanc was also nominated for the Golden Globe of Best Actor in a Television Comedy or Musical. Also, he won at the Kids' Choice Awards in 2003 and was praised by Jack Black in his movie memorandum.
Nielsen Ratings
Based on average total viewers per episode of Joey on NBC:
Season
Timeslot (EDT)
Season premiere
Season finale
TV season
Rank
Viewers
[1]
18-49 rating/share
(rank)
Season high[1][2]
Season low[1][2]
1
Thursday 8:00 P.M. (September 9, 2004 - May 12, 2005)
September 9, 2004
May 12, 2005
2004-2005
#40
10.2
4.2/12 (#32)
18.6
7.5
2
Thursday 8:00 P.M. (September 22, 2005 - December 15, 2005)
Tuesday 8:30 P.M. (August 23, 2006)
September 22, 2005
March 7, 2006
2005-2006
#85
7.1
2.8/8 (#74)
8.4
4.1
Series information
DVD Releases
The Complete First Season was released on DVD on May 30, 2006 with all 24 episodes and French and Spanish subtitles. The Complete Second Season was released on April 29, 2008 in Canada (Region 1) and on September 10, 2008 in the Netherlands and September 11, 2008 in Portugal (both Region 2). The United Kingdom, the United States, and Region 4 are still waiting for a Second Season release.
References
External links