Cobra Kai Season 4 - The Loop
Play Sound
Paul Stephen Rudd (born April 6, 1969) is an American film, television, and stage actor who has appeared in many films including The 40-Year-Old Virgin, Knocked Up, Anchorman: The Legend of Ron Burgundy,Anchorman The Lost Film, Forgetting Sarah Marshall, Role Models, I Love You, Man, Ant-Man, Captain America: Civil War, Ant-Man and the Wasp, and Avengers: Endgame. He portrays Mike Hannigan on Friends.
Biography
Early life
Rudd was born in Passaic, New Jersey, the son of Jewish immigrants from England; his family's original surname was "Rudnitzky". His father, Michael Rudd, is a historical tour guide who was formerly the vice president of World Airways, while Rudd's mother managed a television station. He was raised in Overland Park, Kansas. He attended high school at Shawnee Mission West, and college at the University of Kansas, where he was a member of Sigma Nu fraternity.
Career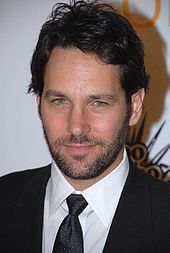 Rudd's breakout performance was in the 1995 film Clueless. Additional credits include Wet Hot American Summer, Halloween: The Curse of Michael Myers, The Cider House Rules, Anchorman: The Legend of Ron Burgundy, William Shakespeare's Romeo + Juliet, Friends (in the recurring role of Mike Hannigan, who married Phoebe Buffay in 2004), The Object of My Affection with Jennifer Aniston and Tim Daly, and The 40-Year-Old Virgin. While he played the original Josh in Clueless, he returned to play the character of Sonny when the movie was adapted into a television show in 1996. Rudd's Broadway credits include The Last Night of Ballyhoo (1997), Twelfth Night (1998), and Three Days of Rain (2006). He recently guest-starred as a has-been 1990s rock star, Desmond Fellows, on the television series, Veronica Mars, in an episode titled "Debasement Tapes". He has also appeared in the audiobook recording of John Hodgman's book The Areas of My Expertise.
In 2006, he appeared in several episodes of Reno 911! as the coach of a birthing class, and portrayed a drug lord in the film Reno 911!: Miami. In 2007, he appeared in the films Knocked Up (his third collaboration with Judd Apatow and Seth Rogen), and The Ten (which reunites him with frequent collaborators David Wain and Michael Showalter). The same year, Rudd provided his voice for the narration of the HBO/NFL Films series Hard Knocks: Training Camp With The Kansas City Chiefs. In 2008, Rudd starred in Over Her Dead Body, opposite Eva Longoria, I Could Never Be Your Woman, a direct-to-video release opposite Michelle Pfeiffer (reuniting him with Clueless director Amy Heckerling), Forgetting Sarah Marshall and Role Models. He also appeared on Little Britain USA as the French President. In 2009, he starred in I Love You, Man with Jason Segel.
As part of a running gag during his appearances on Late Night With Conan O'Brien, Rudd brings clips from the infamous film Mac and Me, where the wheelchair-bound Eric (Jade Calegory) flies off a cliff while Mac watches on, instead of showing clips from the actual movie he is there to promote. Every movie that Paul Rudd drinks a beer, it is always Sierra Nevada.
Personal life
In 2003, he married his girlfriend of five years, Julie Yaeger. In 2006, their son, Jack, was born and 2010, their daughter, Darby was born.
Trivia
Both Rudd and Jennifer Aniston starred in The Object of My Affection (1998) and again in Wanderlust (2010).
Paul Rudd and Reese Witherspoon co-starred in the romcom How Do You Know (2010).
Filmography
Film
 
Year
Title
Role
Notes
1995
Halloween 6: The Curse of Michael Myers
Tommy Doyle
Film debut
Clueless
Josh
1996
Romeo + Juliet
Dave Paris
The Size of Watermelons
Alex
1997
The Locusts
Earl
1998
Overnight Delivery
Wyatt Trips
The Object of My Affection
George Hanson
1999
200 Cigarettes
Kevin
The Cider House Rules
Wally Worthington
2000
Gen Y Cops
Ian Curtis
The Great Gatsby
Nick Carraway
2001
Wet Hot American Summer
Andy
Reaching Normal
Kenneth
The Château
Graham Granville
2003
The Shape of Things
Adam Sorenson
Two Days
Paul Miller
House Hunting
Daniel
2004
Anchorman: The Legend of Ron Burgundy
Brian Fantana
P.S.
Sammy Silverstein
Wake Up, Ron Burgundy: The Lost Movie
Brian Fantana
2005
The Baxter
Dan Abbott
The 40 Year-Old Virgin
David
Tennis, Anyone...?
Lance Rockwood
2006
The Oh in Ohio
Jack Chase
Diggers
Hunt
Night at the Museum
Don
2007
Reno 911: Miami
Ethan the Drug lord
I Could Never Be Your Woman
Adam
The Ex
Leon
Cameo
Knocked Up
Pete
The Ten
Jeff Reigert
Also producer
Walk Hard: The Dewey Cox Story
John Lennon
Cameo
2008
Over Her Dead Body
Henry
Forgetting Sarah Marshall
Chuck or "Kunu"
Role Models
Danny
also writer
2009
I Love You, Man
2015
Ant-Man
Scott Lang/Ant-Man
2016
Captain America: Civil War
Scott Lang/Ant-Man
2018
Ant-Man and the Wasp
Scott Lang/Ant-Man
2019
Avengers: Endgame
Scott Lang/Ant-Man
Television
Year
Title
Role
Notes
1992-1995
Sisters
Kirby Quimby Philby
Recurring guest star
1994
Wild Oats
Brian Grant
Series regular
1996
Clueless
Sonny
Guest star, episode: "I Got You Babe"
2000
Deadline
Zander Price
Guest star, episode: "Lovers and Madmen"
Strangers with Candy
Brent Brooks
Guest star, episode: "The Last Temptation of Blank"
2002-2004
Friends
Mike Hannigan
Recurring guest star
2005
Stella
Greg
Guest star, episode: "Office Party"
2006
Cheap Seats
Dave Penders
Guest star, episode: "1996 Spelling Bee: Part 2"
Robot Chicken
Jasper the Douchebag Ghost, Ang Lee
Guest star, episode: "Book of Corrine"
2006-2007
Reno 911!
Guy Gerricault
Recurring guest star
2007
The Naked Trucker and T-Bones Show
Antagonistic Passenger
Guest star, episode: "Gold Watch"
Veronica Mars
Desmond Fellows
Guest star, episode: "Debasement Tapes"
Hard Knocks: Training Camp With The Kansas City Chiefs
Himself
Narrator
2008
Little Britain USA
French president
Guest Star
Saturday Night Live
Himself
Host (November 15)
2009
Delocated
Himself
Guest Star (February 13)
2011,

2014

The Simpsons
External links