Season 1 of Friends aired from September 22, 1994 to May 18, 1995 on NBC in the US.
Season summary
This season introduces the six main characters: Rachel Greene, Monica Geller, Phoebe Buffay, Joey Tribbiani, Chandler Bing and Ross Geller.
Rachel, who left her fiance at the altar on her wedding day, has come to New York and ends up living with Monica as her roommate when Phoebe had just moved out. It establishes early on in the season that Ross has been infatuated with Rachel since the two characters attended high school. Several episodes revolve around his attempts to tell her how he feels. Ross leaves for a fossil dig in China at the end of the season, missing out on Rachel's birthday party but staying long enough to give her a meaningful present: a cameo that was just like the one that belonged to Rachel's grandmother. Chandler accidentally reveals that Ross is in love with Rachel, much to her shock. Rachel realizes that she has feelings for Ross and rushes off to the airport to tell him that she wants to pursue a relationship with him. As she waits at the gate for Ross to arrive, the season ends on a cliffhanger as he gets off the plane but with a new girlfriend: Julie.
Ross' estranged lesbian wife, Carol Willick, is pregnant with his baby. This puts him and Carol's lesbian life partner, Susan Bunch, in an awkward position. When the baby is born at the end of the season, Ross, Carol, and Susan agree to name him Ben: after a name tag on a janitor's uniform worn by Phoebe.
The episodic nature of the season sees the other characters having multiple dates, many of which go wrong (Monica dates a minor in one episode). The recurring character of Janice is introduced as a girlfriend Chandler breaks up with in an early episode but frequently returns to through the ensuing ten seasons.
Starring
Recurring Cast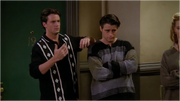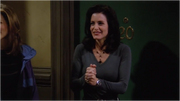 Trivia
Up until "The One Where Underdog Gets Away", Monica and Rachel lived in apartment 5, and Joey and Chandler lived in apartment 4. However, it was realized that such low numbers would correspond to apartments on a lower floor, while their apartments were clearly seen to be higher up in the building. Thus the numbers were changed to 20 and 19 respectively. 
Visible in Monica's apartment is a billboard (stuck on top of a theatrical poster) promoting the Bijou Theatre. The only Bijou theatres open at this time is the New York East Village Club 82/Bijou Cinema gay adult theatre, located on the eastern edge of Greenwich Village where the apartments are supposed to be located.
Despite the apartments supposedly being in Greenwich Village, later episodes give the address as 495 Grove Street which is actually in Brooklyn.
See also
Episode List
#
Total
Image
Title
Writer
Director
Original Airdate
1
1
"The Pilot"
Marta Kauffman & David Crane
James Burrows
September 22, 1994
Monica and the gang introduce Rachel to the "real world" after she leaves her fiancé at the altar. Ross struggles with his rediscovered feelings for Rachel.
2
2
"The One With The Sonogram At The End"
Marta Kauffman & David Crane
James Burrows
September 29, 1994
Ross finds out his estranged lesbian wife and her life partner are going to have his baby.
3
3
"The One With The Thumb"
Jeff Astrof & Mike Sikowitz
James Burrows
October 6, 1994
Phoebe discovers a human thumb floating in her can of soda and gets compensation of $7,000. Chandler starts smoking again.
4
4
"The One With George Stephanopoulos"
Alexa Junge
James Burrows
October 13, 1994
The girls spy on the sexy politician across the street, while the guys go to a hockey game.
5
5
"The One With The East German Laundry Detergent"
Jeff Greenstein & Jeff Strauss
Pamela Fryman
October 20, 1994
Ross and Rachel wash their laundry together. Joey takes Monica on a fake double date in an attempt to reunite with his ex
6
6
"The One With The Butt"
Adam Chase & Ira Ungerleider
Arlene Sanford
October 27, 1994
Joey finally gets a film role: Al Pacino's butt double. Chandler dates a woman who already has both a husband and a boyfriend.
7
7
"The One With The Blackout"
Jeffrey Astrof & Mike Sikowitz
James Burrows
November 3, 1994
During a power outage, Rachel falls for the owner of a lost kitten, a Italian guy, much to Ross's chagrin. Meanwhile, Chandler is trapped in an automated-teller vestibule with a gorgeous model.
8
8
"The One Where Nana Dies Twice"
Marta Kauffman & David Crane
James Burrows
November 10, 1994
Ross and Monica go to the bedside of their dead grandmother, who momentarily returns to life. Chandler questions his sexual persona when a collegue wants to arrange a date for him with another guy.
9
9
"The One Where Underdog Gets Away"
Jeff Greenstein & Jeff Strauss
James Burrows
November 17, 1994
Monica plans a lovely, quiet Thanksgiving feast in her apartment but her plans go awry. Joey appears on medical posters. Rachel plans to go skiing with her family.
10
10
"The One With The Monkey"
Adam Chase & Ira Ungerleider
Peter Bonerz
December 15, 1994
Ross arrives at the New Year's Eve party with his new companion, a monkey named Marcel, who is more compatible with the group than he is.
11
11
"The One With Mrs. Bing"
Alexa Junge
James Burrows
January 5, 1995
Chandler's flamboyant romance-novelist mother comes to New York for a visit. Monica and Phoebe cause a traffic accident.
12
12
"The One With The Dozen Lasagnas"
Jeffrey Astrof & Mike Sikowitz and Adam Chase & Ira Ungerleider
Paul Lazarus
January 12, 1995
Rachel's Italian boyfriend Paolo hits on Phoebe in the massage parlor.
13
13
"The One With The Boobies"
Alexa Junge
Alan Myerson
January 19, 1995
Chandler sees Rachel naked. Joey learns that his father is having an affair with a pet mortician, but his mother already knew.
14
14
"The One With The Candy Hearts"
Bill Lawrence
James Burrows
February 9, 1995
The girls rebel against Valentine's Day by burning mementos from past relationships. Chandler reunites with an old flame.
15
15
"The One With The Stoned Guy"
Jeff Greenstein & Jeff Strauss
Alan Myerson
February 16, 1995
Ross asks Joey for advice on how to talk dirty to women. Monica interviews for a chef's position, but the owner shows up stoned.
16
16
"The One With Two Parts, Part 1"
David Crane & Marta Kauffman
Michael Lembeck
February 23, 1995
Phoebe's twin sister causes confusion and conflict when Joey is attracted to her.
17
17
"The One With Two Parts, Part 2"
David Crane & Marta Kauffman
Michael Lembeck
February 23, 1995
Monica and Rachel squabble over two handsome doctors.
18
18
"The One With All The Poker"
Jeffrey Astrof & Mike Sikowitz
James Burrows
March 2, 1995
The girls lose money in a poker game with the boys. After getting advice from Monica's aunt, they demand a rematch.
19
19
"The One Where The Monkey Gets Away"
Jeffrey Astrof & Mike Sikowitz
Peter Bonerz
March 9, 1995
Rachel accidentally lets Ross's pet monkey escape and a search party forms. Then she discovers that her old best friend Mindy is engaged to marry her ex-fiance.
20
20
"The One With The Evil Orthodontist"
Doty Abrams
Peter Bonerz
April 6, 1995
Rachel has a brief encounter with her ex-fiance. Riddled with guilt, she decides to confess her evil sins only to discover that Mindy's been busier than she's let on.
21
21
"The One With The Fake Monica"
Adam Chase & Ira Ungerleider
Gail Mancuso
April 27, 1995
Monica meets her identity thief, who helps her live out her fantasies. Ross's monkey becomes sexually mature and drives everyone crazy.
22
22
"The One With The Ick Factor"
Alexa Junge
Robby Benson
May 4, 1995
Monica discovers that she is a cradle snatcher. Ross's ex-wife begins giving birth.
23
23
"The One With The Birth"
Teleplay by Jeff Greenstein & Jeff Strauss, Story by David Crane & Marta Kauffman
James Burrows
May 11, 1995
The baby is born, bringing adoration from everyone.
24
24
"The One Where Rachel Finds Out"
Chris Brown
Kevin S. Bright
May 18, 1995
Rachel finds out about Ross's love for her while he is working in China. However, another surprise awaits her as she heads to the airport to meet him.
Community content is available under
CC-BY-SA
unless otherwise noted.