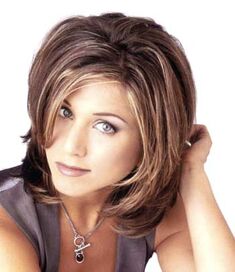 The Rachel haircut is a bouncy, square layered hairstyle introduced by Jennifer Aniston in season one of Friends and named after her character, Rachel Greene. Many women in the 1990s started cutting their hair in the same hairstyle.
The style is claimed to have been created by Jennifer Aniston's hairstylist, Chris McMillan. "The Rachel" became wildly popular among young women and was copied the world over, becoming the 1990s equivalent of Farrah Fawcett's 1970s flip. Despite the fact that Aniston only wore that particular hairstyle during the Friends' first and second season, the opening sequence and the Windows 95 Video Guide, at the beginning of the third season, she switched to a more traditional long-haired look, it has become indelibly associated with the character. In the second season episode "The One With The Lesbian Wedding", Rachel Greene bemoans the fact that her mother is trying to pattern her own life after hers, lamenting, "Couldn't she just copy my haircut?".
External links
Community content is available under
CC-BY-SA
unless otherwise noted.