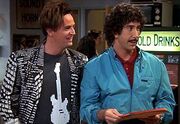 Way, No Way is a band formed by Chandler and Ross during their college days. In "The One Where The Stripper Cries" Chandler and Ross attend their college reunion where they reunite with Missy Goldberg a girl both had a crush on. In this episode we see the pair speaking with Missy as they try to impress her by telling her that their band, name "Way, No Way" is going to be playing the Asian Student Union.
The two happen to be putting up posters to advertise their gig, and when Chandler mentions that he thinks that they look awesome, Ross says it's "Thanks to a little something called Helvetica Bold 24 point!"
Song Titles
Emotional Knapsack
She Feels Weird Since I've Been Gone
Betrayal In The Common Room
Phoebe's Songs
Theme Songs
Classic songs
Gallery
Community content is available under
CC-BY-SA
unless otherwise noted.